Bathroom & Kitchen Curtains
Click here to see our selection of Ready Made Bathroom Curtains.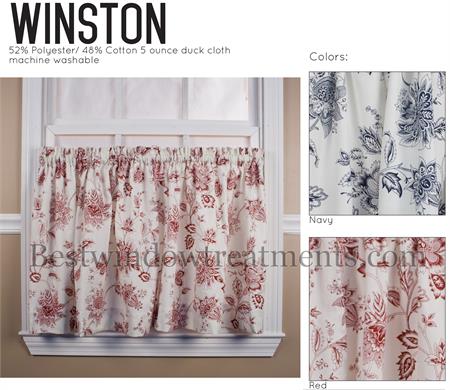 Bathroom curtains are one of the first bathroom decor items purchased because of privacy issues. Bathroom curtains are as functional, pratical and can have unique designs. We carry a wide selection of bathroom curtains, to match the possible themes and color schemes of bathrooms.
Typically bathroom windows are shorter and a bit higher from the floor than other windows in your home to provide more privacy. Curtains used for these windows are usually shorter as well.
The most common 3 sizes of bathroom curtains:
-24 inch length
-30 inch length
-36 inch length
If you want to color coordinate, our custom work rooms can often provide affordable options for coordinating bathroom curtains, valances and shower curtains. Enjoy our excellent pricing and value in all bathroom curtains!
Related products:
Toile Fabric
Toiles are very polular fabric featuring a idyllic woodland or pastoral scene. Typically, toiles are monochromatic and printed on a white or offwhite canvas.
Curtains Hemmed by the Inch
Peruse a large selection of curtains available in either 96" or 108" lengths. If you need shorter sizes, for a small fee we can offer a professional seamstress services.
Custom Valance Top Treatments
Nothing provides the finishing touch to your windows better than a custom window topper. From casual valances to upholstered cornices we have 100's of styles. If you can't find what you need, our fully custom sewing room can create your unique top treatment.
Client Testimonials continued


I just received my order today order and I am absolutely elated. I never ordered from your company before and was very apprehensive about just what I was getting.. Your color pictures were acurate. The color was exactly as stated and the workmanship is very impressive. I would recommend your company to any one who is looking for window treatments. Thank you for your prompt service because I was very anxious, both because I wanted to get them up and because I didn't know what to expect. Above Expectations!!
Opening Hours
We have email representatives available 9am - 8pm EST, or call us during hours below.
Mondays-Fridays: 9AM to 6PM EST
Saturdays: 11AM to 1PM
Sundays: Closed
Popular Window Treatments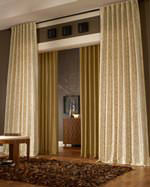 108 and 120 inch Draperies
Patterned Sheers are Hot!
Go completely custom with our line of top treatments, fabric roman shades and side panels. Or a combination of Both! Our online shopping experience, lets you have it your way!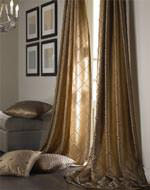 Red Merlot Curtains and Burnt Orange Rust to Blue Turquoise, Antique Gold and Champagne Cream Palettes: thousands of color choices!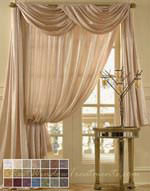 Top your window treatment with one, two or three swoop scarf swag valance.
Staff Picks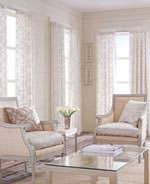 Linen Blends that are wrinkle resistant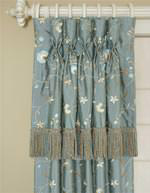 Choose from Goblet, Gathered Tab Top, Crown Pleat, Inverted Pleat, Box Pleat, Pinch Pleated -all tailored to those extra wide width sizes with 2-3x fullness factored in!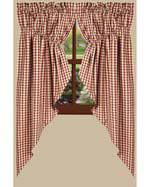 Primitive Country for Homespun Happiness!