Window Treatments home > Window Treatments Product Site map > Corner Curtain Rods
Corner Curtain Rod Sets
Click here to see our selection of Corner Curtain Rods.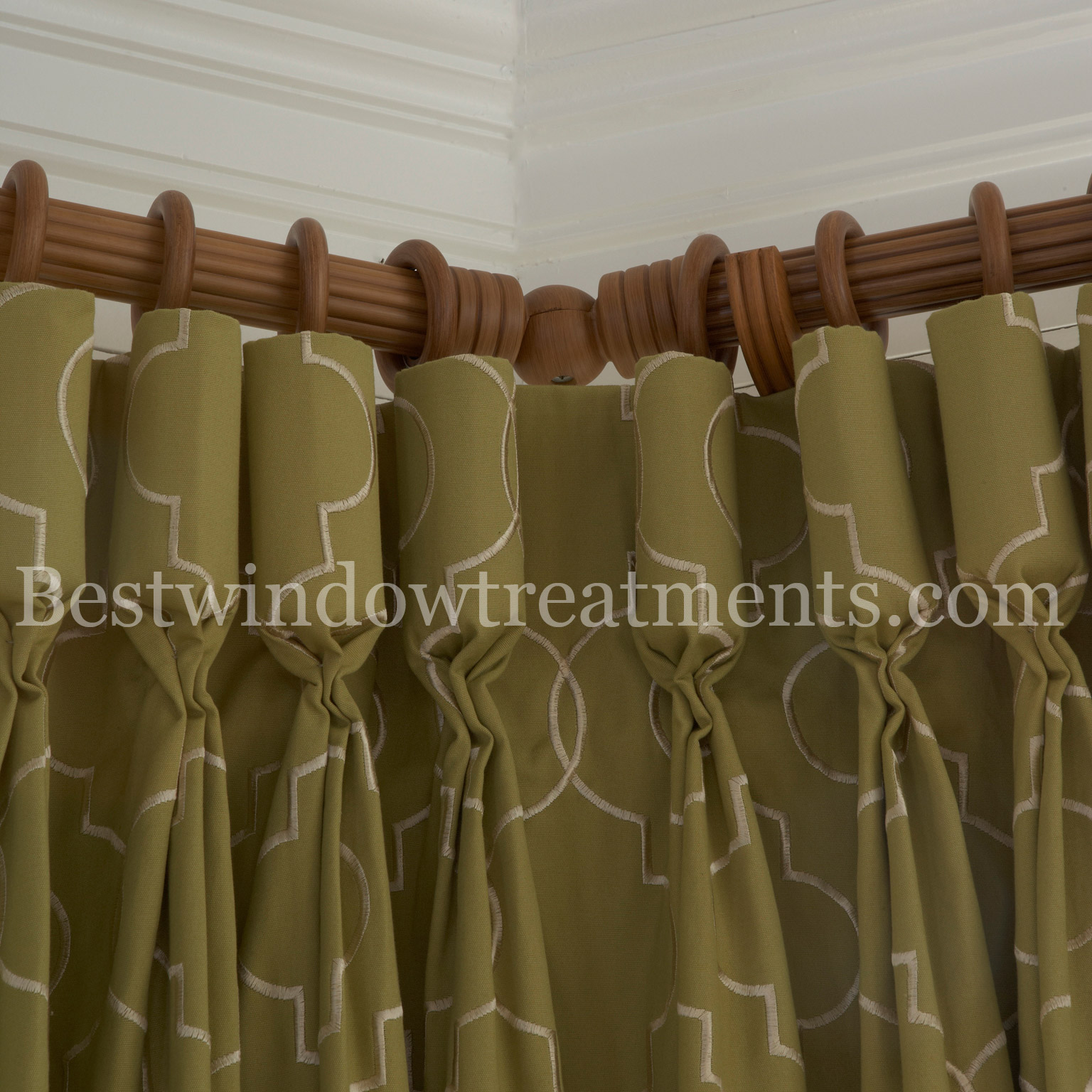 With today's modern architecture more and more homes and office spaces feature spans of corner windows. A corner rod provides a simple, effective solution to create seamless window coverings.
Corner curtain rod sets feature 2 finials, 2 lengths of rods, a flexible elbow and at least 4 brackets.
A corner curtain rod may feature either a rod custom bent to fit a specific space or more commonly two curtain poles connected with a flexible elbow. The true benefit of a corner rod is that it reduces the need for two separate rod sets butting together saving space and cost. Stationary Drapery Panels may be mounted to cover the corner elbow.
NOTE: While curtains can be mounted across a corner rod set up as in this photo, Drapery Panels cannot be pulled around the 90 degree elbow.
Many rod sets on our storefront may be available as a corner curtain rod set simply contact us far availability and pricing.
Curtain Rod Brands Available as Corner Sets
Opening Hours
We have email representatives available 9am - 8pm EST, or call us during hours below.
Mondays-Fridays: 9AM to 5PM EST
We often have extended hours support, please leave a voicemail and we will get back with you as soon as possible.
Related products:
Custom Traverse Curtain Rods
Find the best curtain hardware to match your household décor and curtains! Our decorative traverse curtain rod sets come in a variety of styles, colors and sizes, so you can find the perfect match to your personal style and room.
Custom Window Shades
It is important to have the right window treatments for the right window! Our custom window shades are sure to fit the measurements of your windows, with precision! Enjoy affordable prices and top quality of all our custom window shades. Available in many colors and styles to match your personal preference and household décor.
Custom Drapery Panels
You will love our great deals on custom curtain panels. We feature a wide selection of curated fabrics that are available in any style drapery panel you can imagine.