Window Treatments home > Window Treatments Product Site map > Grommet Drapes
Grommet Drapes
Click here to see our selection of Ready Made Grommet Drapes.

Click here to see our selection of CUSTOM Grommet Drapes.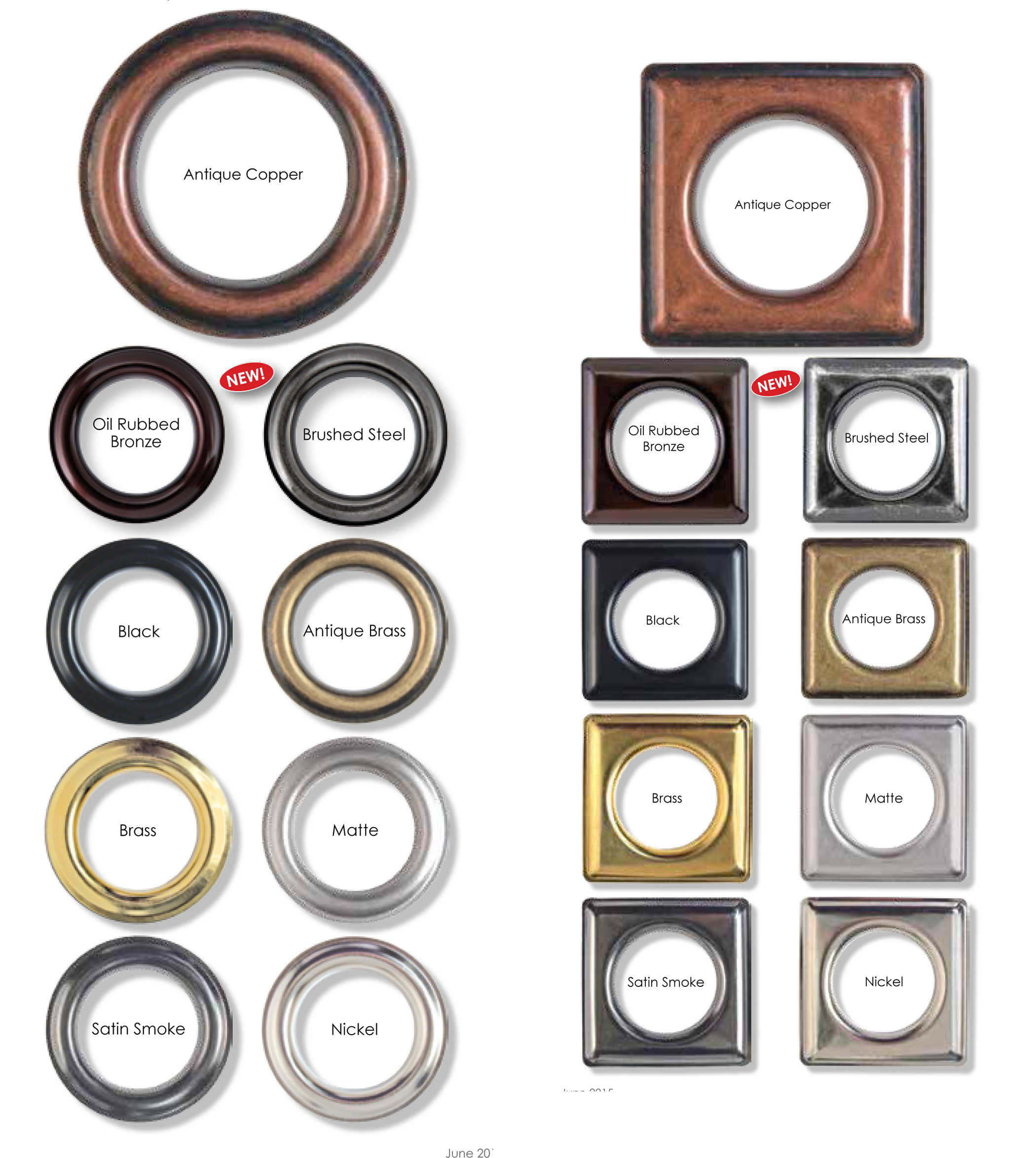 Grommet draperies are an attractive, soft, folding style curtain panel in which metal grommets are inserted into the drapery header. Grommets are used with a decorative pole and provide a clean contemporary look. Many people use grommet drapes because of the clean even pleats that can be acheived when the drapes are open. Another benefit is the metal grommets may coordinate with your drapery hardware.
Metal Grommets come in a variety of sizes. The standard size grommet is #12 - with an inside diameter of 1 9/16." Please note that standard size grommets will not accomodate decorative poles larger than 1-1/4."
Our custom workroom offers Grommet Curtains in a variety of colors and styles. In general, larger grommets should be used with poles over 1-1/2" diameter.
We suggest Grommet Drapes in either a single width panel or a double width panel as one major drawback of grommet curtain panels is they cannot traverse a center support bracket. This means Grommet Draperies are usually not a good choice for patio doors or large window applications that require a one way draw.
If you are unsure if grommet curtains are appropriate for your window treatment needs, call our customer service center and a helpful design rep will be able to assist you.
While most people like the fact that grommets, can be drawn much easier than rod pocket draperies, use care when drawing grommet drapes as they may scratch the finish from the top of your curtain rod. A trick some window treatment installation installers suggest is to use surfboard wax along the top of the rod once a year.

Client Testimonials continued
Opening Hours
We have email representatives available 9am - 8pm EST, or call us during hours below.
Mondays-Fridays: 9AM to 5PM EST
We often have extended hours support, please leave a voicemail and we will get back with you as soon as possible.
Related products:
Roller Shades
The technology for roller shades has come a long way from the cheap white vinyl shade of the 1970's. We offer beautiful drapery fabric fused
to quality blackout shade cloth, all on a smooth running spring roller shade or optional clutch lift mechanism. Alternately,
Woven Wood Shades
No one will ever guess how little you paid for these gorgeous, yet cheap Woven Wood Shades! We have a large selection available, so you can coordinate with fabric curtains or match your household décor and the room in the best way possible.
Commercial Fabric
We offer quality deals on commercial fabric for large orders. Whether you are an interior designer, contractor, business owner, or home builder, our selection of commercial fabric will meet meet NFPA standards at a reasonable price. These commercial fabrics are made with quality and are ready to meet all your commercial needs.