Window Treatments home > Site Information Center > How To Measure Your Window For Curtains
How To Measure Your Window For Curtains
Click here to see How To Measure Your Window For Curtains.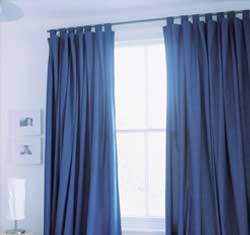 Measuring for your window curtains is an important step before making your purchase, but you'll be glad you did. We have outlined some steps to make your measuring easier and to get you along to the fun part: Shopping for your curtains!
How to measure for curtains:
· Use a steel measuring tape - cloth tapes are not accurate. Take exact measurements - round down to the nearest quarter of an inch (1/4").
· On your notes, clearly indicate which measurement is the width and which is the length. It is very common to transpose measurements.
· Measure all the windows in the room.
Measuring Width
To arrive at the proper width of your window, measure from the total area to be covered. Include the molding for outside mount curtains. To maximize window glass increase width measurement should extend beyond the window on either side to account for stackback..
Measuring Length
To arrive at the proper length for your curtain if rods are already in placemeasure from the top of curtains rod to the floor (if you do not want the curtains to touch the floor measure to the point where you want the bottom of your curtain to fall.)
·If no rod is installed, Start length measurement where you want the Rod hung, then measure towards the bottom windowsill to the spot where you want the curtains to end. This Length measurement is the finished length of your curtain panels.
NOTE
· Ready made curtain panels usually come in pre-set widths of 50". To determine the necessary number of curtains you will need take your overall width measurement from above and multiply X 2*. Divided this number by the width of your ready made curtain panels.
Example: 100" window x 2/50" curtain panel width = 4 curtain panels required
*This number represents the "fullness" of your curtains. Typical fullness is between 1.5 and 3. Most custom curtains are already sewn with there fullness incorporated into the finished width.

Client Testimonials continued
Opening Hours
We have email representatives available 9am - 8pm EST, or call us during hours below.
Mondays-Fridays: 9AM to 5PM EST
We often have extended hours support, please leave a voicemail and we will get back with you as soon as possible.