Window Treatments home > Site Information Center > How To Measure Your Window For Curtains
How To Measure Your Window For Curtains
Click here to see How To Measure Your Window For Curtains.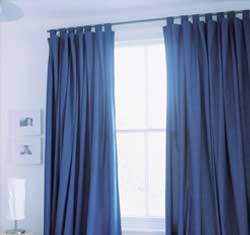 Measuring for your window curtains is an important step before making your purchase, but you'll be glad you did. We have outlined some steps to make your measuring easier and to get you along to the fun part: Shopping for your curtains!
How to measure for curtains:
· Use a steel measuring tape - cloth tapes are not accurate.
· Take exact measurements - round down to the nearest quarter of an inch (1/4").
· On your notes, clearly indicate which measurement is the width and which is the length. It is very common to transpose measurements.
· Measure all the windows in the room.
Measuring Width
To arrive at the proper width of your window, measure from the outside of the molding, unless window treatment is inside molding. Fullness should be 1 1/2 - 2 times this measurement, depending on the style of curtain and personal taste.
Measuring Length
To arrive at the proper length for your curtain, measure from the top of molding, or top of rod, if rods are already in place, to the point where you want the bottom of your curtain to be.
Measuring for Panel Curtains
· Use a folding ruler or metal tape for measuring-cloth tapes may stretch or sag.
· Start length measurement where you want the Rod hung, then measure towards the bottom windowsill to the spot where you want the curtains to end. This Length measurement is the finished length of your curtain panels.
· The combined width of both curtain panels (2 panels come in a set) should equal 1 and a half to 2 times the total width of your window
· Start width measurement up to 4" on either side of window and follow through to other side. Use guidelines in tip #3 above to determine what your finished width should be.
· You may even find that two panel widths is not enough coverage for the width of your window. If this is the case, you can purchase 2 sets and put the curtains all on the same rod.