Window Treatments home > Site Information Center > Types of curtain rods
Types of curtain rods
Click here to see our selection of Types of curtain rods.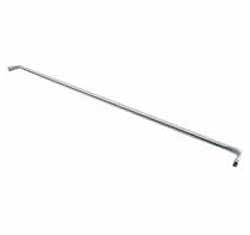 Go to your local hardware store and check out the window treatment section. This is big business! The sheer number of curtain rods will astound you. And it is not just the number, but the different types of curtain rods that will surprise you. Some are very ornate and majestic. You can attach something to the end of your curtain rod, called a "finial." This is an ornate piece that dresses up your ordinary curtain rod and takes it up a notch from drab to fabulous. You will also find the ordinary utilitarian curtain rods. You will find them in every color and material, and they will range in price from the single digits to the double digits.
· Finials
These decorative pieces are attached to the ends of curtain rods, creating a finished look to the rod. They are available in a number of styles. Some curtain rods come with the finial, and some manufacturers offer an assortment to mix and match.
· Magnetic Curtain Rods
A great solution for hanging curtains on steel doors. Powerful magnets are able to hold the weight of most curtains. Best of all there are no screws, no adhesives, and they attach in seconds. Magnetic rods are available in different style rods too.
· Spring Tension
Spring tension rods are available in oval and round. The round is typically used on doors with a rod at the top and bottom. The oval is used with panels to prevent drilling holes in the walls.
· Cafe Rods
A basic rod that adds a little decorative touch. Available in 1/2" for lighter panels and 3/4" for heavier panels. Ideal for kitchen curtains.
· Sash Rods
Typically used on sidelights and doors. They are available with a swivel end for easy access to the window.
· Holdbacks
Holdbacks are great for "holding back" drapery panels to the sides of the window and may also be used as scarf holders at the top of the frame. Holdbacks add a great decorative element to your window. To the left you can see the decorative curtain rod with matching holdbacks.

Client Testimonials continued
Opening Hours
We have email representatives available 9am - 8pm EST, or call us during hours below.
Mondays-Fridays: 9AM to 5PM EST
We often have extended hours support, please leave a voicemail and we will get back with you as soon as possible.