Window Treatments home > Site Information Center > Types of curtain rods
Types of curtain rods
Click here to see our selection of Types of curtain rods.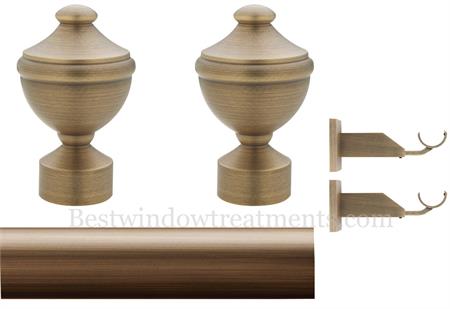 Your curtains require beautiful hardware that can meet your exact needs. The sheer number of curtain rods will astound you. From wood to metal the sheer variety of curtain rods will surprise you. We make choosing the correct hardware easy. Bestwindowtreatments.com has curated the highest quality hardware and sells Curtain Rods as a set with pole, brackets and finials included. Choose between wood and metal custom rods. Wood rods are typically larger and ornate. Metal rods are typically more modern and chic. Whatever your style the correct Finials (ornate piece attached to the end of the curtain rod) take your design from drab to fabulous. You will also find rods in a huge array of finishes, styles and prices.
· Finials
These decorative pieces are attached to the ends of curtain rods, creating a finished look to the rod. They are available in a number of styles. Some curtain rods come with the finial, and some manufacturers offer an assortment to mix and match.
· French Rods
French style rods feature a curved return to the wall instead of finials. These styles are usually used for light to medium weight curtains. Best of all these rods work with a wide array of decorating styles from traditional European to contemporary chic. We offer French rods in a variety of diameter sizes.
· Spring Tension
Spring tension rods are available in oval and round. The round is typically an inexpensive option used on metal doors or windows used to prevent drilling holes in the frame.
· Cafe Rods
A basic rod that adds a little decorative touch. Typically a smaller rod in 1/2" for lighter panels and 3/4" for heavier panels. Cafe rods are usually mounted inside the window frame. Some people even have a rod at the top and the bottom of the curtain panel. Ideal for kitchen windows or any window where shorter curtains are required.
· Sash Rods or Swing Arm Rods
Typically used on sidelights and doors. They are available with a swivel end that lets you rotate the curtain 180 degrees for easy access to the window.
· Holdbacks
Holdbacks are great for "holding back" drapery panels to the sides of the window and may also be used as scarf holders at the top of the frame. Holdbacks add a great decorative element to your window. To the left you can see the decorative curtain rod with matching holdbacks.

Client Testimonials continued
Opening Hours
We have email representatives available 9am - 8pm EST, or call us during hours below.
Mondays-Fridays: 9AM to 5PM EST
We often have extended hours support, please leave a voicemail and we will get back with you as soon as possible.