Window Treatments home > Window Treatments Product Site map > Ready Made Curtains
Ready Made Curtains
Click here to see our selection of Ready Made Curtains.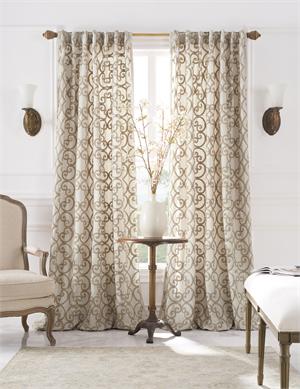 Ready made curtains are available in a wide range of fabric materials, colors, styles and price points. When choosing your ready made curtains, consider curtains that compliment existing decors rather than match exactly.
Available Ready Made Sizes
It's important to measure the space you are covering before buying ready made curtains to ensure you get the right look for your window treatments.
Most ready made curtains are a single width of fabric typically ~50 inches wide. A curtain this wide typically covers about 25 inches. Two ready made curtains are typically needed to cover windows up to 50 inches. For wider opening, you may need additonal panels for proper coverage.
Bestwindowtreatments.com offers many styles in 4 length options: 84", 96", 108" and 120."
Features to Look For in Ready Made Curtains
Lining Options
Standard lining will protect against sun damage and fading. Lining also provides your ready made curtains more weight which allows your drapes to hang more properly.
Interlining may be an available option. Interlining is an additional layer usually a lightweight flannel material added between the fabric and the basic lining. Interlining enhances fullness, weight, and insulation to your ready made drapes lending a custom look to your window treatments.
Blackout Lining may be an available option. A dense Blackout Drape Lining blocks 100% of light, absorbs noise, insulates against heat and cold, and protects drapery, rugs and furniture from fading.

Header Styles

Rod Pocket Curtains feature a pocket channel sewn into the top of the curtain panel. Draperies are mounted by inserting a curtain rod into this channel and shirring the drapes onto the rod.
Grommet Curtain feature metal rings riveted into the header of the curtains. Draperies are mounted by threading a curtain rod through the grommets.
Backtab Curtains feature loops along the back of the pocket channel sewn into the top of the curtain panel. Back Tabs provide a sleek, pleated look to your curtains as well as allowing for easier opening and closing of the panels.

Fabric Content

The material that a curtain is constructed from can be just as important as color or pattern. Different fabrics hang differently. Some fabrics like faux silks or silk can be shiny. Woven fabrics may have a smooth or rough texture. Different materials hold dye differently which means that a Barn Red color appears diffent on a cotton fabric than it does on a silk fabric.

Curtain Pattern

From solid colors to complex brocades, today's ready made curtains have just about any design imagingable. Geometric designs are often considered more contemporary. Damasks and brocades are more traditional. The design you choose for your ready made curtain panel can draw the eye to your window making it a centerpiece of your decor or blend seamlessly into your design. High resolution images on this website can provide an excellent idea of how your ready made drapes will look.

Color

We do our best to provide pictures of individual color samples for each ready made curtain. Please be aware that individual computer monitors vary as far as color. If swatches are available, consider pre-ordering a sample to view the color in person.

Bestwindowtreatments.com consider ready made curtains as all curtains for which we accept returns.



Client Testimonials continued
Opening Hours
We have email representatives available 9am - 8pm EST, or call us during hours below.
Mondays-Fridays: 9AM to 5PM EST
We often have extended hours support, please leave a voicemail and we will get back with you as soon as possible.
We have the best selection of Ready Made Curtains at the lowest prices!
Related products:
Bedroom Decorating Accessories
You spend a lot of time in your bedroom. Granted, a lot of that time is spent sleeping, but it is still important to have the right mood in your bedroom. It is also important to have your bedroom personalized so that it fits just you. Our bedroom decorating accessories help your bedroom look its absolute best and allow you to feel your absolute best.

Living Room Decorating Accessories
No living room is complete without living room decorating accessories. Living room decorating accessories can range from mantle clocks to vases to throws to candlesticks. Without these added details, your living room is not the best that it can be. Living room decorating accessories give your living room a homier, more finished look.

Roman Shades
Roman shades come in a variety of fabrics. Whichever fabric you choose determines how your roman shades will look. Roman shades are controlled by cords and pulleys. The panels lift, stack, and practically disappear when the roman shades are raised. Roman shades also offer some insulation.