Window Treatments home > Site Information Center > Types of Blinds
Types of Blinds
Click here to see our selection of Types of Blinds.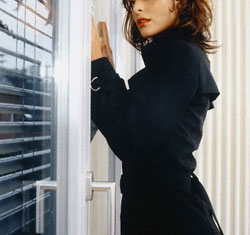 So what's the difference between a blind and a shade? Blinds afford sun control and a view while most shades simply block out the sun or not.
With blinds, two factors differentiate the many types available: the material used to make the slats and the size of the slats. Most blind manufacturers also offer a "blackout" feature. The slats are overlapped so that no light comes in thru the cord holes
· Aluminum Blinds
Lightweight vinyl blinds are the least expensive blind available, but can be flimsy. Aluminum blinds, a moderate step up in price, are a better choice. They come in 1/2-inch, 1-inch, and 2-inch sized slats, as many as 100 colors, and some manufacturers offer different finishes including metallic, hammered, brushed, and a leather-like soft suede. The two-inch slats generally provide better sun control, and because there are fewer of them, they are less intrusive to the view outside.
· Faux wood blinds
The next step up in price is the wood look-alike blinds, usually called "faux wood." Their one and two-inch sized slats are thick and look like the real thing to everyone but a window treatments expert. The wood look-alikes are either a wood-polymer mix or 100 percent polymer. Faux wood blinds are favored by many interior designers because they are easy to clean, an advantage in a kitchen, and they don't warp, fade or crack, a great advantage in a room with high humidity such as a bathroom.
Wood and faux wood blinds will definitely dress up a room, but if the window is large, they can be cumbersome and heavy to raise. These give a room a more finished look, and because you can open the top half for light and air while keeping the bottom part closed, offer more options for sun control and privacy than a regular blind.

Client Testimonials continued
Opening Hours
We have email representatives available 9am - 8pm EST, or call us during hours below.
Mondays-Fridays: 9AM to 5PM EST
We often have extended hours support, please leave a voicemail and we will get back with you as soon as possible.