Window Treatments home > Site Information Center > Contemporary Window Treatments
Contemporary Window Treatments
Click here to see our selection of Contemporary Window Treatments.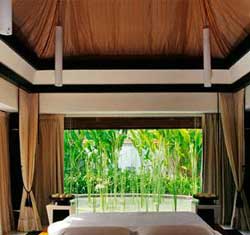 Curtains and draperies are versatile and can jazz up a room with a contemporary window treatment. They are great at blocking light and sound, heat and cold. They are also wonderfully decorative and add enormous personality to a room.
Contemporary window treatments are as varied as the imagination allows:
· a sash curtain (to filter light)
· a draw curtain (to block out light)
· an over-drapery (which used to be purely decorative and is now just called a drapery)
In very formal rooms with sufficiently high ceilings, all of this can topped with a cornice or valance to hide the hardware. This traditional treatment carries on today in period or very formal or dressy rooms.
The modern tendency is to think of curtains as sash curtains often unlined and in a variety of lengths, and draperies as those that draw, completely closing off the window, but a contemporary window treatment can be draped, or a swag fabric can be loosely hung over a decorative rod. You can give any room a contemporary design by choosing bold colors and varied textures.
Consider the tremendous number of contemporary window treatment options you may choose from:
· Hang curtains of lace, cotton, nylon, silk, or some other sheer fabric.
· Place a curtain over a blind.
· Hang a curtain beneath chintz, silk, velvet, linen, or other draw drapery.
· Hang draw draperies over blinds or some other shade.
· Hang draw draperies alone on a decorative pole.
· Top curtains with short, purely decorative over-draperies known as swags and jabots.
· Top a blind or shade with swags, which drape over just the top of the window and long or short jabots, which hang on the sides of windows.
· Top any or all of these contemporary window treatments with a cornice or valance.
You can see that the variations are practically endless, especially when you combine these elements with contemporary window blinds and shades.

Client Testimonials continued
Opening Hours
We have email representatives available 9am - 8pm EST, or call us during hours below.
Mondays-Fridays: 9AM to 5PM EST
We often have extended hours support, please leave a voicemail and we will get back with you as soon as possible.